The main elements that have led to the market success of Salvatore Robuschi (SR), on the market since 1935, are the customer-oriented design and the knowledge of the technical-commercial staff. The primary goal of Salvatore Robuschi is to become a reference brand for process pumps, by designing "tailor-made" solutions for every need. Salvatore Robuschi has dedicated itself to the realization of pumps that are innovative through the production techniques used and the modularity of the components. Many parts are produced by micro precision casting, such as the impellers, combined with the design of the components results in pumps with high energy efficiency and low NPSH. The range includes centrifugal pumps with closed or open impellers in accordance with ISO 5199-2858, vortex impellers with complete free reeds and channel impellers, both in horizontal and vertical set-up. The pumps are produced in cast iron, stainless steel or special alloys. The company also produces a lighter series, cheaper but very versatile, in stainless steel AISI316, with capacities up to 200 m3/h. Production also includes the new type of cantilever pumps, which work even in the most difficult conditions. This pump offers a good, durable and innovative alternative from the point of view of application and range.
SR pumps can be used for many industrial applications: chemical and pharmaceutical industry (preparation of active ingredients), food industry (washing of fruits and vegetables, vacuum transport and concentration), distillation, purification, tanning, textiles and in all those sectors with difficult to pump liquids (such as with suspended solids). Thanks to good organization and a huge stock of machined parts, SR is able to deliver process pumps in 2-3 weeks and spare parts in only 24/72 hours. SR's spearheads are quick technical and commercial assistance, fast delivery service and flexibility in dealing with immediate needs.
SR is certified to supply pumps to Atex standard, category 2 & 3 (zone 1 & 2), suitable for installation in hazardous areas.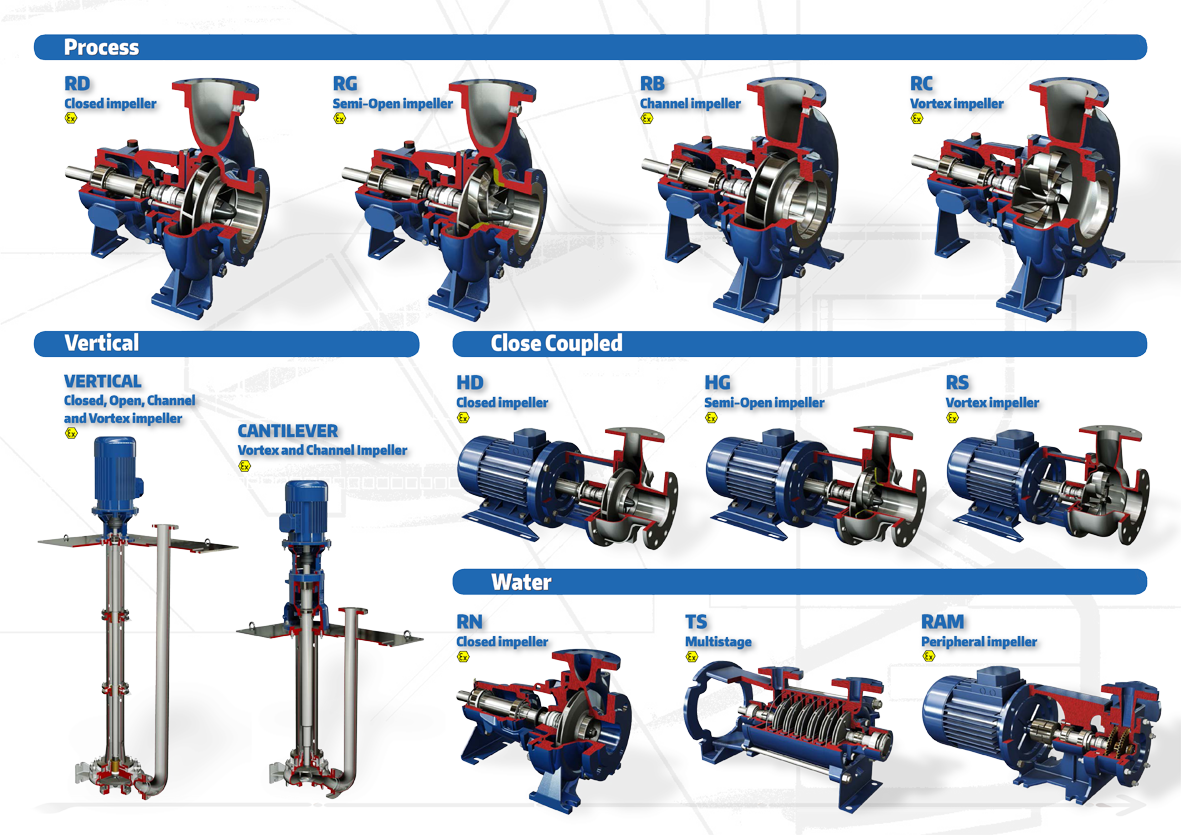 Salvatore Robuschi's current range of products includes ;
Horizontal process pumps ISO2858 with closed impeller ;
Close coupled ; RDM 32-16, RDM 32-20, RDM 40-16, RDM 40-20, RDM 50-16, RDM 50-20, RDM 50-25, RDM 65-16, RDM 65-20, RDM 65-25, RDM 65-31, RDM 80-16, RDM 80-20, RDM 80-25, RDM 80-31, RDM 100-20, RDM 100-25, RDM 100-31, RDM 100-40, RDM 125-25, RDM 125-31, RDM 125-40
Lantern bracket execution ; RDL 32-16, RDL 32-20, RDL 40-16, RDL 40-20, RDL 50-16, RDL 50-20, RDL 50-25, RDL 65-16, RDL 65-20, RDL 65-25, RDL 65-31, RDL 80-16, RDL 80-20, RDL 80-25, RDL 80-31, RDL 100-20, RDL 100-25, RDL 100-31, RDL 100-40, RDL 125-25, RDL 125-31, RDL 125-40
Long coupled ; RDB 32-16, RDB 32-20, RDB 40-16, RDB 40-20, RDB 50-16, RDB 50-20, RDB 50-25, RDB 65-16, RDB 65-20, RDB 65-25, RDB 65-31, RDB 80-16, RDB 80-20, RDB 80-25, RDB 80-31, RDB 100-20, RDB 100-25, RDB 100-31, RDB 100-40, RDB 125-25, RDB 125-31, RDB 125-40
Vertical process pumps ISO5199 with closed impeller ; RDV 32-16, RDV 32-20, RDV 40-16, RDV 40-20, RDV 50-16, RDV 50-20, RDV 50-25, RDV 65-16, RDV 65-20, RDV 65-25, RDV 65-31, RDV 80-16, RDV 80-20, RDV 80-25, RDV 80-31, RDV 100-20, RDV 100-25, RDV 100-31, RDV 100-40, RDV 125-25, RDV 125-31, RDV 125-40
Horizontal process pumps ISO2858 with semi-open impeller ;
Close coupled ; RGM 32-16, RGM 32-20, RGM 40-16, RGM 40-20, RGM 50-16, RGM 50-20, RGM 50-25, RGM 65-16, RGM 65-20, RGM 65-25, RGM 65-31, RGM 80-16, RGM 80-20, RGM 80-25, RGM 80-31, RGM 100-20, RGM 100-25, RGM 100-31, RGM 100-40, RGM 125-25, RGM 125-31, RGM 125-40
Lantern bracket execution ; RGL 32-16, RGL 32-20, RGL 40-16, RGL 40-20, RGL 50-16, RGL 50-20, RGL 50-25, RGL 65-16, RGL 65-20, RGL 65-25, RGL 65-31, RGL 80-16, RGL 80-20, RGL 80-25, RGL 80-31, RGL 100-20, RGL 100-25, RGL 100-31, RGL 100-40, RGL 125-25, RGL 125-31, RGL 125-40
Long coupled ; RGB 32-16, RGB 32-20, RGB 40-16, RGB 40-20, RGB 50-16, RGB 50-20, RGB 50-25, RGB 65-16, RGB 65-20, RGB 65-25, RGB 65-31, RGB 80-16, RGB 80-20, RGB 80-25, RGB 80-31, RGB 100-20, RGB 100-25, RGB 100-31, RGB 100-40, RGB 125-25, RGB 125-31, RGB 125-40
Vertical proces pumps ISO5199 with semi-open impeller ; RGV 32-16, RGV 32-20, RGV 40-16, RGV 40-20, RGV 50-16, RGV 50-20, RGV 50-25, RGV 65-16, RGV 65-20, RGV 65-25, RGV 65-31, RGV 80-16, RGV 80-20, RGV 80-25, RGV 80-31, RGV 100-20, RGV 100-25, RGV 100-31, RGV 100-40, RGV 125-25, RGV 125-31, RGV 125-40
Horizontal process pumps with channel impeller ;
Close coupled ; RBM 65-20, RBM 80-20, RBM 80-20, RBM 80-25, RBM 80-31, RBM 100-25, RBM 100-25, RBM 125-25, RBM 125-31, RBM 125-40, RBM 150-31, RBM 150-35, RBM 200-35, RBM 250-35, RBM 250-45, RBM 300-45, RBM 300-46
Lantern bracket execution ; RBL 65-20, RBL 80-20, RBL 80-20, RBL 80-25, RBL 80-31, RBL 100-25, RBL 100-25, RBL 125-25, RBL 125-31, RBL 125-40, RBL 150-31, RBL 150-35, RBL 200-35, RBL 250-35, RBL 250-45, RBL 300-45, RBL 300-46
Long coupled ; RBB 65-20, RBB 80-20, RBB 80-20, RBB 80-25, RBB 80-31, RBB 100-25, RBB 100-25, RBB 125-25, RBB 125-31, RBB 125-40, RBB 150-31, RBB 150-35, RBB 200-35, RBB 250-35, RBB 250-45, RBB 300-45, RBB 300-46
Vertical process pumps ISO5199 with channel impeller ; RBV 65-20, RBV 80-20, RBV 80-20, RBV 80-25, RBV 80-31, RBV 100-25, RBV 100-25, RBV 125-25, RBV 125-31, RBV 125-40, RBV 150-31, RBV 150-35, RBV 200-35, RBV 250-35, RBV 250-45, RBV 300-45, RBV 300-46
Vertical pumps, Cantilever design ; RBC 65-20, RBC 80-20, RBC 80-20, RBC 80-25, RBC 80-31, RBC 100-25, RBC 100-25, RBC 125-25, RBC 125-31, RBC 125-40, RBC 150-31, RBD 65-20, RBD 80-20, RBD 80-20, RBD 80-25, RBD 80-31, RBD 100-25, RBD 100-25, RBD 125-25, RBD 125-31, RBD 125-40, RBD 150-31, RBE 65-20, RBE 80-20, RBE 80-20, RBE 80-25, RBE 80-31, RBE 100-25, RBE 100-25, RBE 125-25, RBE 125-31, RBE 125-40, RBE 150-31, RBF 65-20, RBF 80-20, RBF 80-20, RBF 80-25, RBF 80-31, RBF 100-25, RBF 100-25, RBF 125-25, RBF 125-31, RBF 125-40, RBF 150-31, RBG 65-20, RBG 80-20, RBG 80-20, RBG 80-25, RBG 80-31, RBG 100-25, RBG 100-25, RBG 125-25, RBG 125-31, RBG 125-40, RBG 150-31
Horizontal process pumps with vortex impeller ;
Close coupled ; RCM 32-16, RCM 32-20, RCM 50-16, RCM 50-20, RCM 50-25, RCM 65-20, RCM 80-20S, RCM 80-20, RCM 80-25, RCM 80-31, RCM 100-25, RCM 125-25, RCM 125-31, RCM 150-31, RCM 150-35, RCM 200-35, RCM 250-35
Lantern bracket execution ; RCL 32-16, RCL 32-20, RCL 50-16, RCL 50-20, RCL 50-25, RCL 65-20, RCL 80-20S, RCL 80-20, RCL 80-25, RCL 80-31, RCL 100-25, RCL 100-25, RCL 125-25, RCL 125-31, RCL 150-31, RCL 150-35, RCL 200-35, RCL 250-35
Long coupled ; RCB 32-16, RCB 32-20, RCB 50-16, RCB 50-20, RCB 50-25, RCB 65-20, RCB 80-20S, RCB 80-20, RCB 80-25, RCB 80-31, RCB 100-25, RCB 125-25, RCB 125-31, RCB 150-31, RCB 150-35, RCB 200-35, RCB 250-35
Vertical process pumps ISO5199 with vortex impeller ; RCV 32-16, RCV 32-20, RCV 50-16, RCV 50-20, RCV 50-25, RCV 65-20, RCV 80-20S, RCV 80-20, RCV 80-25, RCV 80-31, RCV 100-25, RCV 125-25, RCV 125-31, RCV 150-31, RCV 150-35, RCV 200-35, RCV 250-35
Vertical pumps, Cantilever design ; RCC 32-16, RCC 32-20, RCC 50-16, RCC 50-20, RCC 50-25, RCC 65-20, RCC 80-20S, RCC 80-20, RCC 80-25, RCC 80-31, RCC 100-25, RCC 125-25, RCC 125-31, RCC 150-31, RCD 32-16, RCD 32-20, RCD 50-16, RCD 50-20, RCD 50-25, RCD 65-20, RCD 80-20S, RCD 80-20, RCD 80-25, RCD 80-31, RCD 100-25, RCD 125-25, RCD 125-31, RCD 150-31, RCE 32-16, RCE 32-20, RCE 50-16, RCE 50-20, RCE 50-25, RCE 65-20, RCE 80-20S, RCE 80-20, RCE 80-25, RCE 80-31, RCE 100-25, RCE 125-25, RCE 125-31, RCE 150-31, RCF 32-16, RCF 32-20, RCF 50-16, RCF 50-20, RCF 50-25, RCF 65-20, RCF 80-20S, RCF 80-20, RCF 80-25, RCF 80-31, RCF 100-25, RCF 125-25, RCF 125-31, RCF 150-31, RCG 32-16, RCG 32-20, RCG 50-16, RCG 50-20, RCG 50-25, RCG 65-20, RCG 80-20S, RCG 80-20, RCG 80-25, RCG 80-31, RCG 100-25, RCG 125-25, RCG 125-31, RCG 150-31
Close coupled SS pumps with closed impeller ; HDM 25-16, HDM 25-19, HDM 32-16, HDM 40-16, HDM 50-16, HDM 50-20, HDM 65-16, HDM 65-20, HDM 80-16, HDM 80-20
Close coupled SS pumps with semi-open impeller ; HGM 32-16, HGM 40-16, HGM 50-16, HGM 50-20, HGM 65-16, HGM 65-20, HGM 80-16, HGM 80-20
Close coupled SS pumps with vortex impeller ; RSM 20-08, RSM 25-12, RSM 32-12, RSM 32-16, RSM 32-20, RSM 40-12, RSM 40-16, RSM 40-20, RSM 50-16, RSM 50-20, RSM 65-16, RSM 65-20
Horizontal pumps EN733 with closed impeller ;
Close coupled ; RNM 32-12S, RNM 32-12, RNM 32-16, RNM 32-20, RNM 40-12, RNM 40-16, RNM 40-20, RNM 40-25, RNM 50-12, RNM 50-16, RNM 50-20, RNM 50-25, RNM 65-12, RNM 65-16, RNM 65-20, RNM 65-25, RNM 80-16, RNM 80-20, RNM 80-25, RNM 100-20, RNM 100-25
Lantern bracket execution ; RNL 32-12S, RNL 32-12, RNL 32-16, RNL 32-20, RNL 40-12, RNL 40-16, RNL 40-20, RNL 40-25, RNL 50-12, RNL 50-16, RNL 50-20, RNL 50-25, RNL 65-12, RNL 65-16, RNL 65-20, RNL 65-25, RNL 65-31, RNL 80-16, RNL 80-20, RNL 80-25, RNL 100-20, RNL 100-25
Long coupled ; RNB 32-12, RNB 32-16, RNB 32-20, RNB 40-12, RNB 40-16, RNB 40-20, RNB 40-25, RNB 50-12, RNB 50-16, RNB 50-20, RNB 50-25, RNB 65-12, RNB 65-16, RNB 65-20, RNB 65-25, RNB 65-31, RNB 80-16, RNB 80-20, RNB 80-25, RNB 80-31, RNB 100-20, RNB 100-25, RNB 100-31, RNB 100-40, RNB 125-25, RNB 125-31, RNB 125-40, RNB 150-31, RNB 150-40
Vertical process pumps ISO5199 with closed impeller ; RNV 32-12, RNV 32-16, RNV 32-20, RNV 40-12, RNV 40-16, RNV 40-20, RNV 40-25, RNV 50-12, RNV 50-16, RNV 50-20, RNV 50-25, RNV 65-12, RNV 65-16, RNV 65-20, RNV 65-25, RNV 65-31, RNV 80-16, RNV 80-20, RNV 80-25, RNV 80-31, RNV 100-20, RNV 100-25, RNV 100-31, RNV 100-40, RNV 125-25, RNV 125-31, RNV 125-40, RNV 150-31, RNV 150-40
Horizontal multistage pumps ; TSB 31-4, TSB 31-5, TSB 31-6, TSB 31-7, TSB 31-8, TSB 31-9, TSB 31-10, TSB 31-11, TSB 32-4, TSB 32-5, TSB 32-6, TSB 32-7, TSB 32-8, TSB 32-9, TSB 32-10, TSB 32-11, TSKB 31-4, TSKB 31-5, TSKB 31-6, TSKB 31-7, TSKB 31-8, TSKB 31-9, TSKB 31-10, TSKB 31-11, TSKB 32-4, TSKB 32-5, TSKB 32-6, TSKB 32-7, TSKB 32-8, TSKB 32-9, TSKB 32-10, TSKB 32-11, TSKB 40-4, TSKB 40-5, TSKB 40-6, TSKB 40-7, TSKB 40-8, TSKB 40-9, TSKB 40-10, TSKB 50-4, TSKB 50-5, TSKB 50-6, TSKB 50-7, TSKB 50-8, TSKB 50-9, TSKB 50-10, TSL 31-4, TSL 31-5, TSL 31-6, TSL 31-7, TSL 31-8, TSL 31-9, TSL 31-10, TSL 31-11, TSL 32-4, TSL 32-5, TSL 32-6, TSL 32-7, TSL 32-8, TSL 32-9, TSL 32-10, TSL 32-11, TSKL 31-4, TSKL 31-5, TSKL 31-6, TSKL 31-7, TSKL 31-8, TSKL 31-9, TSKL 31-10, TSKL 31-11, TSKL 32-4, TSKL 32-5, TSKL 32-6, TSKL 32-7, TSKL 32-8, TSKL 32-9, TSKL 32-10, TSKL 32-11, TSKL 40-4, TSKL 40-5, TSKL 40-6, TSKL 40-7, TSKL 40-8, TSKL 40-9, TSKL 40-10, TSKL 50-4, TSKL 50-5, TSKL 50-6, TSKL 50-7, TSKL 50-8, TSKL 50-9, TSKL 50-10
Double-stage peripheral impeller pumps ; RAM.D 13, RAM.D 14, RAM.D 15, RAM.E 13, RAM.E 14, RAM.E 15